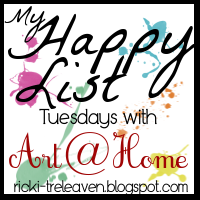 Thank you Rickyjill for the opportunity to join your blog party today.  I have wished to join in your Happy List Party for a long time.
!.  My Macbook Air (thank you John for this great Christmas gift) THIS MAKES JOINING MY HAPPY LIST POSSIBLE
2.  Christina, Bob, grandkids (Nicholas, Maddie, Ryan, Emilie), John M., Kathleen, Oliver,and Daniel
   3.  My sister Jo Ann, Barry her husband, Jamie (a sweet neice), David and Lauren their baby Josie( love to give you a hug Josie)
4.  My bonus sisters Catherine and Jane( your children too!) and all of the extended family
5.  My Alta Loma Friends (Blessings to you always)
6.  Memories of my parents (Thank you)
7.  John's work associates (I need to add you to this happy list too!)
It's all about the people in our lives always that create a beautiful life for myself and John
Many hugs and wishing all the best TO ALL OF YOU IN BLOGLAND in 2014 !
Mary Jane